Prepare Your Ford FedEx Fleet For Peak Season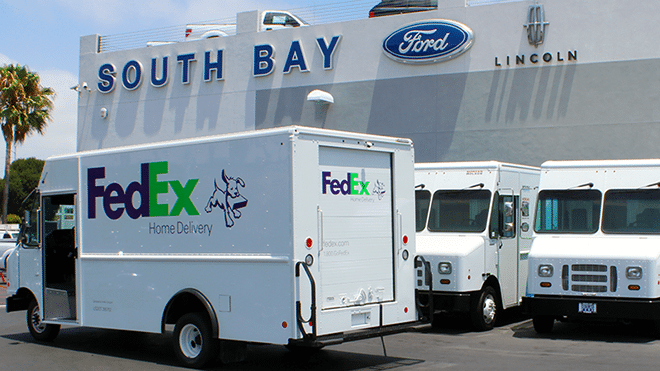 Peak season is almost upon us and South Bay Ford is the sole comprehensive source of commercial expertise and knowledge that's going to help get you through it. As you know, the holidays are the busiest time of year for FedEx and its Home and Ground networks. While you gear up for the busiest time of year, South Bay Ford will provide you peace of mind and reassurance that your fleet will continue to thrive under the strain of the holiday months and beyond. With proper peak season preparation, Independent Contractors (ICs) and Independent Service Providers (ISPs) will stay on the road longer in an effort to complete routes as efficient as possible. As your trusted Ford FedEx fleet headquarters, South Bay Ford has the resources you need to plan for the hustle and bustle of the holidays. Ourcommercial experts have spent all year preparing for your fleet to remain profitable through peak season and the time has finally come to put it into practice.
Through South Bay Ford you will get a jump start on the holiday rush, leaving no stone unturned. With online shopping growing at a rapid rate, e-commerce is bigger than ever and FedEx operators are at the forefront of managing its demand. As a result, FedEx orchestrates thousands of shipments around the world so packages arrive on time and delivery routes to stay intact. With vapid winter weather around the corner, exceptional planning must be carried out to insure the best customer service ICs and ISPs can offer. As one of the top FedEx fleet providers, South Bay Ford will furnish your business with the solutions it needs to enjoy a successful holiday season and serve their loyal customers in the face of adversity.
With FedEx anticipating an exponential surge in deliveries this peak season, your fleet should be poised to withstand the subsequent demand of time-sensitive shipments. As the volume of packages slowly increase, contractors across the country brace for the influx of deliveries in their pipeline. Through South Bay Ford, your FedEx step vans are sure to be properly equipped with the capability to combat demand and exceed client expectations.
Bolster your franchise structure today and take the necessary steps to tackle peak season with a P500, P700, P1000 (F-59), P1000 (E-450), P1200, or F-650 Straight Truck from South Bay Ford today. Our venerable commercial experts have the knowledge and experience to get you through the often tumultuous peak season. By working with industry-leading manufacturers, your Ford FedEx delivery truck will continue to operate at its best. Working alongside Morgan Olson and Utilimaster to guarantee that your FedEx truck is upfitted to exact specifications, withstanding peak season is easier than ever. As an added convenience, South Bay Ford also offers the most competitive financing and leasing options for FedEx contractors nationwide.
With its continued growth in revenue-share, FedEx and its network of ICs and ISPs is flourishing; that means sole alignment with your business ideals and a monetary increase in fleet operations. At South Bay Ford we recognize the need for your enterprise to succeed and our robust client service experience will help you get there. Where FedEx connects people and possibilities, South Bay Ford and its longstanding history with FedEx contractors advocates the notion of innovation toward a more sustainable future. As such, we offer analternative fuel solution with LPG (propane) or CNG that's conducive to both your fleet's longevity and a reduced cost of ownership overtime. Call or visit us to find out more about making the switch to alternative fuel for your Ford FedEx step van or truck today. We look forward to working with you.