HOW FORD TRANSIT MAKES MORE BURRITOS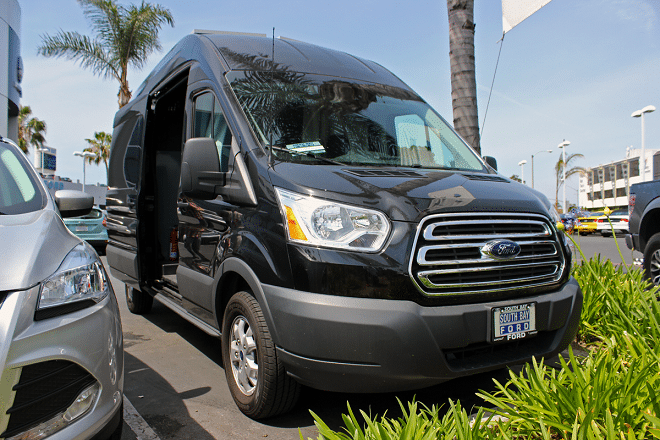 "They call it the news van."
"They," in the above quote, are Billy Coker's nieces and nephews, and the "it" they are referring to is his 2015 Ford Transit 250. The all-new commercial van is the hub of Coker's business, More Burritos.
Coker started the photography and video production company last year. Billy came up with the intriguing name from his kids, who constantly asked for, you guessed it, "more burritos." Coker, a burrito fan himself, also didn't want the typical "something something mobile services" moniker so often used by the competition; he wanted a name that would stick in the minds of clients. So it was no surprise he grabbed the More Burrito title after discovering its availability.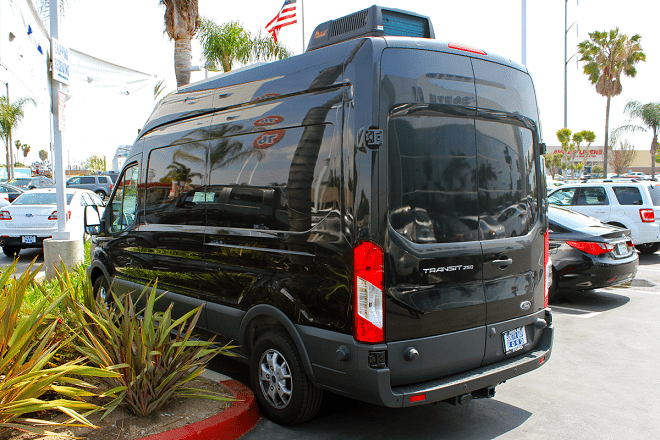 Coker initially ran More Burritos out of a Honda Accord and, later, his family's Odyssey minivan. Not finding either suitable, he began research on the Ford Transit as well as other compact commercial vans. He came to South Bay Ford Commercial (SBFC) because of its strong reputation in the Commercial Truck business. This includes offering a variety of vehicles, uplifts and conversions, and providing great customer service. As an added bonus, South Bay was close to his home as well.
The Ford Transit, Coker discovered, fit virtually all his needs. The van's pricing was within the sweet spot for his start-up business, with SBFC ordering pretty much everything he was looking for. Coker found the sales staff at South Bath Ford Commercial friendly and the transaction hassle-free—a big plus for any business owner, small or large.
Originally, Coker planned to run More Burritos like most video production companies where he would film at the client's site, then submit a draft reel days, or sometimes weeks, later for their approval. But the Ford Transit changed all that. By using the van as a mobile office, More Burritos produces the same quality products at a much quicker pace. Clients can view revisions that same day and request changes on the spot. This allows businesses to publish completed videos on their sites immediately, a valuable ability to have in today's demand for current, fresh information products. This same speed also allows More Burrito to charge less for its services than the competition.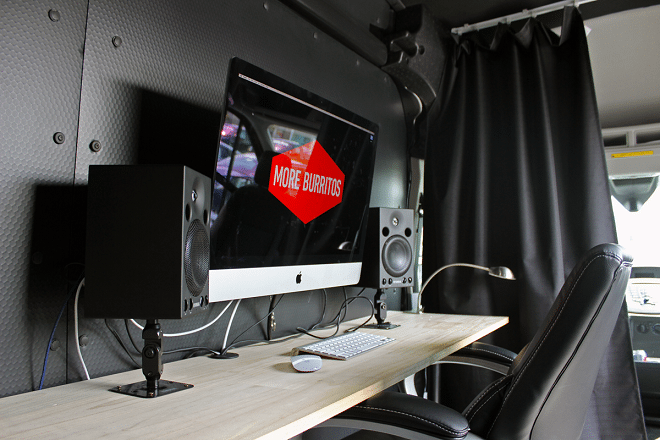 Features like the 2015 Ford Transit 250's smooth ride and classic black exterior were just a few attributes that drew Coker to his new van. To use the Transit as a mobile office, a conversion company made such alterations as installing additional insulation and strengthening the frame for shelving and storage units. Wi-Fi cameras were also installed for improved security measures. To keep cool in the warmer months of the year, an opening was cut in the Transit's ceiling to set up an RV-style AC unit. Also on the roof are a number of solar panels used in conjunction with a portable generator to provide power whenever there is no access to the client's power lines.
The capacious interior of the Transit 250 was another selling point. There's plenty of space to store More Burrito's gear, and up to four staff have fit comfortably inside to work together. Installed captain chairs in the cabin make the interior both comfortable and professional to conduct business in. At one time, Coker had a 6-foot, 8-inch client enter the van to go over footage. That same client later said he never felt claustrophobic during his meetings with Billy.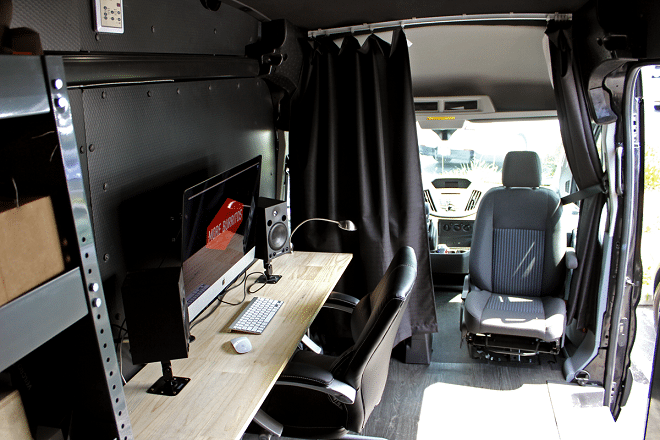 Coker is not done altering his Ford Transit yet. In the near future, he plans to add hot-spot capability to make it easy to transfer data such as stock footage or music without accessing the client's Wi-Fi. Coker believes his company's use of the Transit as a mobile office is scalable not only for himself, but for other types of businesses as well. No matter what happens next, Billy's fully customized Ford Transit "news van" from South Bay Ford will be there to provide more burritos for years to come.