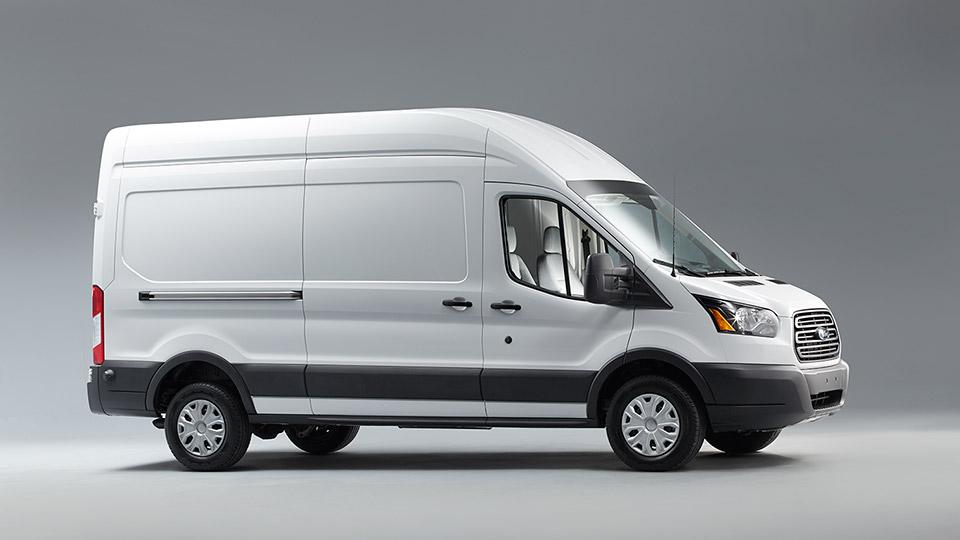 Usher in a new era with the 2015 Transit from Ford. This all-new vehicle offered from the brand built on toughness and trust marks the beginning of the versatile full-size van drivers have been missing. With configurations ranging from box length to roof height, the possibilities are almost endless. In order to support the payload or passenger capacity your fleet demands, the Transit delivers with a GVWR range from 8,650 to 10,360 pounds. Built upon ideals of versatility, the Ford Transit is whatever you need it to be.
The wagon is available in four impressive models to accommodate 8-, 10-, 12-, or 15-passengers. With its spacious interior and comfortable features, the 2015 Transit from South Bay Ford is exactly what your fleet has been looking for. The cargo variant has a number of body lengths and wheelbases to choose from, including 130? and 148? configurations to match the precise needs of your enterprise. As for roof height, the all new Transit is a marvel of vehicular construction with three options available exclusively to you: low (83.6?) and medium (100.8?) on the standard 130? wheelbase; low (83.2?), medium (100.7?) and high (110.1?) roof heights on the long 148? wheelbase; high (109.4?) roof height on the long 148? wheelbase. Unibody construction is another staple to the 2015 Transit design as it consists of a lightweight yet strong exterior. This unique structure allows for incredible usage thanks to its high-strength, boron steel fabrication.
Maximizing cargo space is just one luxury the Transit Van offers its drivers, thus accommodating a wide range of commercial-use applications for independent contractors and fleet managers alike. The cargo van comes equipped with varying degrees of payload volume, ranging from 246.7 cubic feet to an impressive 487.3 cubic feet—perfect for ladder racks and other rooftop accessories. With the wagon, passengers can experience unprecedented comfort, especially for commuting applications. Complete with aisle seating in the 10-, 12-, and 15-passenger variants, the 2015 Transit from South Bay Ford makes it easy to move back and forth between front and rear when parked. All the above, coupled with its incredible towing capability, makes the Transit a practical solution for your towing essentials.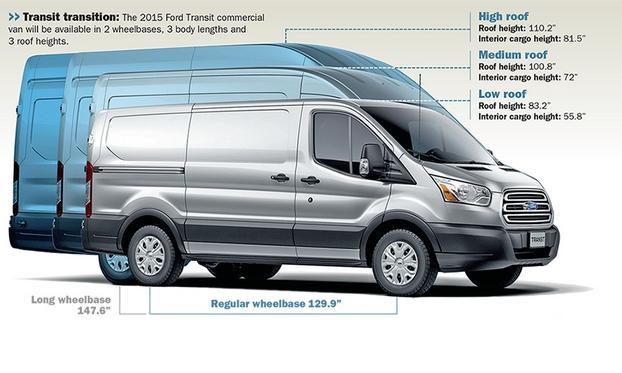 As a trusted Ford product, you know power is an integral component of the Transit's unique construction. With a line of power-efficient engines designed for cost-sensitive businesses in mind, the standard 3.7L Ti-VCT V6 engine is as sturdy as they come. With an inventive 3.7L EcoBoost engine delivering V8-like performance, there's several reasons to explore more efficient fuel economy. The third option, a 3.2L I-5 Power Stroke Turbo Diesel engine, offers drivers a dependable drivetrain solution. Operating a high-usage vehicle requires durability from the inside out. As your commercial headquarters, South Bay Ford will help you find the best engine for your vocation, whether you're in the Los Angeles area or across the contiguous United States. What's more, our positive working relationship with leadingalternative fuel upfit manufacturers will ensure that your switch to alt fuel is seamless should you so choose. Simply add a CNG/LPG Gaseous Engine Prep Package and we will take care of the rest.
Enjoy pliability and state-of-the-art Ford engineering from the 2015 Transit, a product of smart ingenuity that has your best interests in mind. From several cargo door configurations to its modernized interior, ideal for those long drives that demand the utmost in comfort. This vehicle is the perfect tool for any job you encounter.